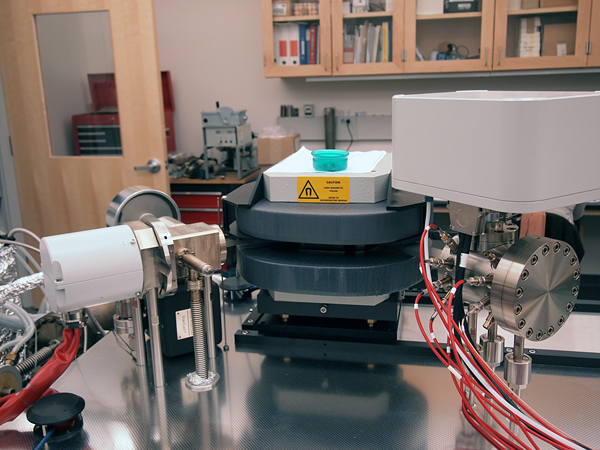 What We Do
The Lehigh University noble-gas lab analyzes rocks and minerals for two purposes: determination of the age of geological units and measurement of the timing and rates of geological processes. Although we routinely do work across the range of Ar-Ar and U-Th/He techniques, our particular speciality is in measuring thermal histories using Ar-Ar analyses of the mineral K-feldspar and U-Th/He analyses of the minerals apatite and zircon.
With support from Lehigh University and the National Science Foundation, the lab is equipped with two mass spectrometers and several extraction lines, with Ar-Ar analyses being fully automated for both laser and furnace systems. Much of our work has focused on characterizing rates of erosional, tectonic, and metamorphic processes in young mountain belts, although we have done a fair bit of work dating sedimentary units by means of interbedded volcanic units.
Feel free to contact us if you want more information, are interested in a tour, or wish to arrange a presentation to school or similar groups about geologic time and modern techniques in measuring it.
Current Lab Group
Research Staff

Bruce Idleman
Peter Zeitler

Ph.D. Students

Lenny Ancuta: Basalt and xenolith isotope geochemistry, and basalt geochronology, Mongolia
Kalin McDannell: Thermochronology of slowly cooled terranes, North American Craton and Mongolia; He diffusion systematics in apatite
Jennifer Schmidt: Tectonic and landscape evolution of southern Lhasa Block, Tibet; feldspar argon diffusion behavior in a contact aureole

M.S. Students

Darwin Janes: He diffusion systematics in apatite
Janelle Thumma: Timing of uplift of Gobi Altai ranges in Mongolia, using low-temperature thermochronolgy
Access to the Laboratory
If you have a project that requires either Ar-Ar or U-Th/He analyses, we'd be interested in collaborating with you. Give us a call and we can talk about access, timing, costs, and resources. Students, faculty, and staff at Lehigh can assume that the lab will be available to them but need to talk with Zeitler about costs and training.
At the moment we are unable to accept outside contract work on a per-sample basis.
| | |
| --- | --- |
| Dr. Peter K. Zeitler | Dr. Bruce D. Idleman |
| +1.610.758.3671 | +1.610.758.3672 |
| | |
Dept. of Earth and Environmental Sciences
1 West Packer Avenue
Bethlehem, PA 18015-3001 USA
+1.610.758-3671 (fax)
*...still proudly acronym-free after 27 years!